Brushwood Fencing Australia Pty Ltd is a Sydney based Company that specialise in the construction of new brushwood fences and the restoration of old brushwood fences.
Brushwood Fencing Australia Pty Ltd are fully licensed with all the necessary insurances and have all the OH&S safe work method statements in place.
The team is dedicated in providing you with solutions to your brushwood fencing design and construction needs.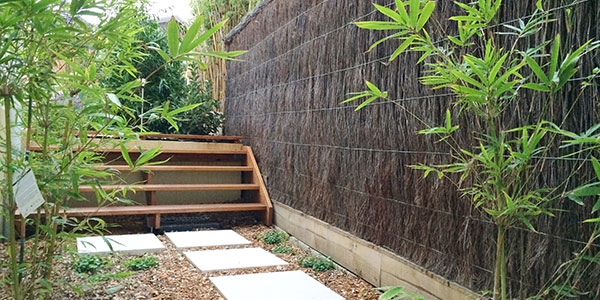 Our brushwood fencing styles and sizes are suitable for traditional rural settings to modern contemporary courtyards using both the hand thatched method and the more modern pre-fabricated brushwood panels.
Traditionally bundles are cut from wild plants or licensed plantations and transported to the cities where skilled trade's people construct brushwood fences on site. The hand thatched method involves densely packing the stems in a supporting steel frame of uprights and horizontal wires that are neatly trimmed and capped with brushwood roll tops.
The non-traditional craft is the use where the fences are usually constructed using brushwood panels, which have been packed, wired, and trimmed to consistent specification in a factory. The panels are transported to the construction site and erected on a sturdy concealed steel framework. Our brushwood panels have being officially authorised and certified "Pool Compliant" unlike some other panels on the market.
Both methods should have qualified and licensed trades people installing them for a professional finish and guarantee.
Brushwood may also be used in gazebos, pergolas and gates, and other decorative landscape structures.
Brushwood fencing is becoming increasingly popular as a natural alternative to brick, steel and timber, it is durable for up to 25 years, and is impervious to termites.
Our vision is to deliver inspirational brushwood fences and service that exceed the customer's expectations.